Meet Your Ambient AI Scribe
Speke is the ambient AI scribe that helps providers shift away from the computer and back to the bedside. With AI-empowered documentation - supported by the nation's leader in medical scribes - providers can once again deliver personalized patient care.
You Speke, We Listen
Technology should work for you, not against you. Speke puts providers back at the bedside with a solution tailored to their unique needs. With Speke, natural conversations with patients are transformed into accurate notes through a documentation assistant built by experts in machine learning, and supported by highly-skilled medical scribes.
Portable Platform
Speke is easily accessed on your mobile device, offering an easy-to-use, portable platform to seamlessly document your patient encounters.
Natural Language
Speke utilizes speech-to-text and natural language processing to parse important information. Simply carry on a normal conversation with your patients and Speke does the rest.
Simplicity
Speke is designed with simplicity in mind. Since Speke is EHR agnostic, providers simply need to review and sign off with the EHR once the documentation is complete.
Why Speke?
Speke is available directly on your mobile phone, on an easy to use, portable platform for hassle-free documentation. It works seamlessly in the background while you carry on a natural conversation with your patients – no cumbersome prompts or keywords are needed.
Providers easily activate Speke on their mobile phones on an easy-to-use app.
Unlike other platforms that require unique keywords or commands to trigger documentation, Speke allows you to carry out a normal conversation with your patients.
No special device or complicated software is required. Speke's HIPAA-secure application is available on your mobile phone.
Speke listens as you talk to patients. Speke's AI understands your natural dialog and captures and parses information while you deliver personalized care.
In healthcare, one size does not fit all. We customize Speke to fit your unique needs.
Speke can work across different care settings and sub-specialties, adapting to the unique needs of different care settings.

During the integration process, our concierge team works with you to determine and map Speke to fit your workflow preferences.

The end result is a note tailored to your preferences, documented directly into the EHR, so you can spend less time behind a computer and more time with your patients.
Speke combines AI with Medical Scribes to optimize speed and accuracy of EHR input.
As the recognized leader in medical scribe support, you know that your documentation will be complete, accurate and secure. No other platform matches the quality of training, experience and support behind Speke.
The Speke AI intuitively documents the patient visit with reliable accuracy. And ScribeAmerica's scribes support accuracy and quality assurance on the backend.
Scribes monitor your documentation and alert you through the Speke app when additional information is needed.
How Speke Works
Speke provides a hassle-free, truly ambient experience that puts reliable documentation at your fingertips in a matter of seconds.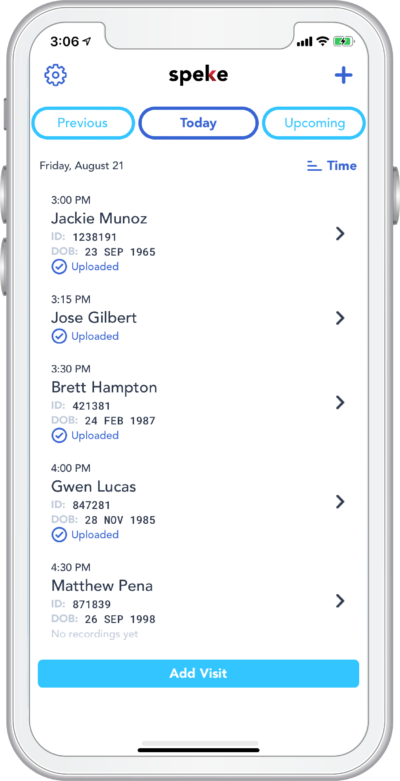 Step 1: Open the Speke App and Begin Your Encounter
Simply log into the Speke App and view your patients for the day. Select your current patient from the list, or add a new patient, and you're ready to begin your encounter.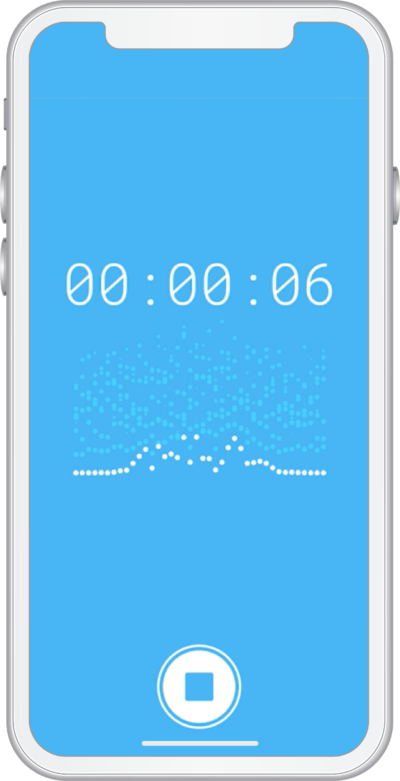 Step 2: Enjoy a Normal Conversation with Your Patient
At the touch of a button, your session begins and you can simply set your phone aside. With Speke, simply talk to your patient as you normally would and Speke does the rest. You can also add notes after your encounter.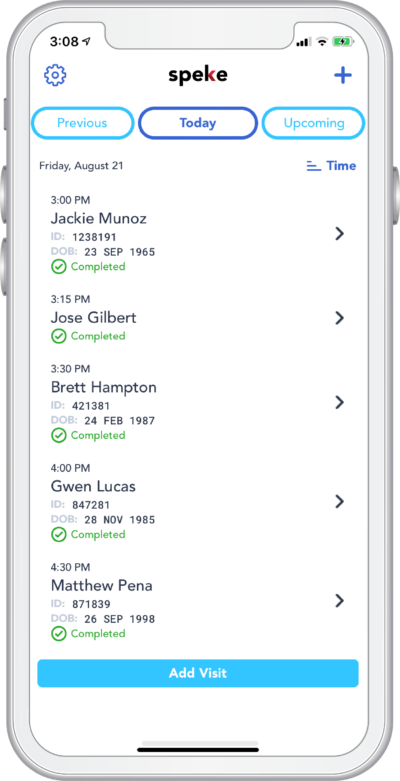 Step 3: Documentation is Completed Accurately and Quickly
Medical Scribes document your encounter in the EHR. Simply sign in and review. With ScribeAmerica scribes behind your documentation, you have highly-skilled specialists checking for quality and alerting you when additional information is needed.
The Speke Difference
Speke has been built by a team of machine learning and healthcare experts that are guided by the principle that technology should be simple, intuitive and, most importantly, help you deliver more personalized care.