Skip to main content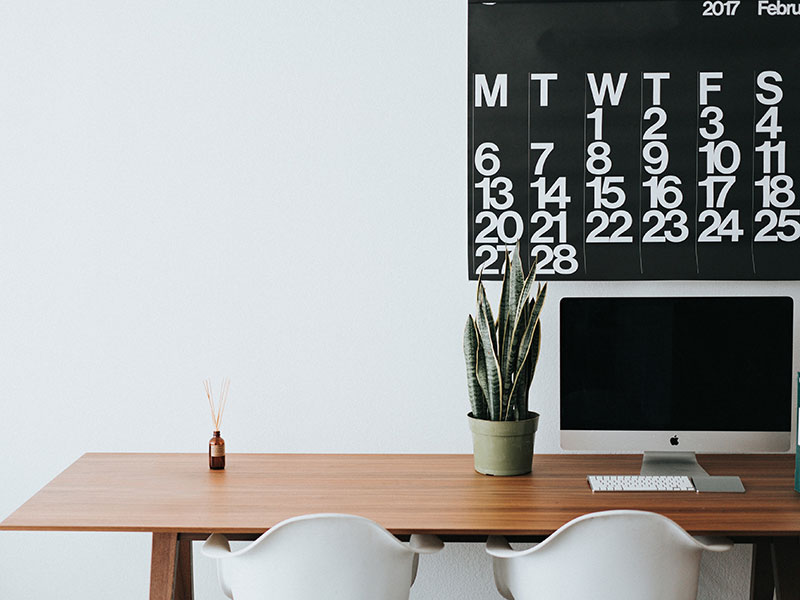 Workplace Tips to Increase Productivity & Avoid Burnout
Throughout 2019, we have been gathering workplace tips to improve workplace communication, leadership skills and more. We would then share these tips with different team members to help ease workloads and fight workplace burnout. From creating a work environment that allows you to work as productively as possible, to email tips and tricks, below is a re-cap of the best tips from 2019.
---
November 2019: Managing Your Productivity
Research indicates that only 26% of people often leave the office having accomplished the tasks they set out to do. It is common to feel as if you have been busy but have not done anything important. A good first step is to understand the mental mistakes that typically prevent us from focusing on and finishing meaningful work. Below are the five mental mistakes that HBR states are getting in the way of your chances of having a productive day.
You overestimate how much focused time you have in a typical day.
You overlook proven, sustainable methods that seem too boring or too simple.
You think about change in an all-or-nothing way.
You forget how to do recurrent but infrequent tasks.
You underestimate the costs of small time/energy leaks
Read more from Harvard Business Review: 5 Mental Mistakes That Kill Your Productivity
---
October 2019: Creating a Productive Work Environment
There are a variety of factors that can influence your productivity, but nothing is more impactful than your actual work environment. After all, it can affect your decision-making, mood, and even your physical health. Consider it essential to make sure that your work environment and conditions are optimized to boost your productivity, especially for those of us who work remotely. Below are a few suggestions.
Let in as much natural light as possible.
Choose the right colors in your office. Yellow is ideal for creativity, while muted colors are relaxing and soothing.
Keep the temperature at around 72 degrees.
Create an ergonomic workplace design to prevent carpal tunnel and eyestrain.
Keep your workspace clean and organized.
Identify and reduce distractions.
The physical environment and conditions of your workplace play a role in your productivity, and if you are noticing too many distractions, it may be time to give your office a much-needed overhaul
Read more from LinkedIn: 10 Ways to Create a More Productive Work Environment
---
September 2019: Email Etiquette
Despite our best efforts, email still bests us, taking away precious time from other work we would like to be doing. This is a widespread problem: more and more people feel overwhelmed with work and email, and the pace has not shown any signs of slowing. Below are some ways to set email boundaries.
Email signature disclaimers. Use your email signature to tell people how long it might take to receive a reply and what your office hours are.
Use your auto responder generously. This communicates that you are away and when you can expect a reply. You do not need to be OOO to use and auto responder!
Set communications guidelines for your team. When adding new members to your team, taking on new clients, or even starting a new project, let them know how and when you like to be communicated with, and ask them for their preferences as well.
Lead by example. If you are answering emails late in the evenings and all day on weekends, you are telling your team that you expect the same from them. Use a service like Boomerang to schedule emails to be sent later or Inbox Pause to control when emails appear in your inbox.
Read more from Harvard Business Review: 6 Ways to Set Boundaries around Email
---
July 2019: Avoiding Work Burnout
Burnout doesn't just happen to medical providers. It is something that all of us are susceptible to. Burnout is so common that the World Health Organization included it in its International Classification of Diseases or ICD-11 this past summer. So what can we do to avoid it? Below are a few tip from Forbes.
Get plenty of sleep. When you don't sleep, your brain does not function at its prime.
Exercise often. Exercise is crucial to your mental and physical health.
It has been proven that laughing relieves stress and has many positive short-term and long-term effects.
Spending time with people outside of work gives you some much-needed emotional fulfillment.
Learn when to say no. The more you took on, the more it will began to wear on you.
Burnout is stressful, harmful, and a huge hindrance on your work and personal life. Pay attention to where you are at emotionally, as burnout can creep up on you. Check in with yourself occasionally to make sure you are not overloading your schedule or your stress levels.
Read more from Forbes: 5 Ways To Avoid Burnout At Work
---
March 2019: Stress Management
Stress is a normal part of most jobs, and it is not uncommon for work-related pressures and responsibilities to seep into one's home life. Below are five ways to prevent stress from work from interfering with life at home.
Communicate with your family. Communicate clearly with them about the extent of your work obligations. This can help to avoid bottling up your stress.
Transition from work to home. If you commute home from work, take the time to transition between the two places. This can help to shut down your work issues and prepare for the interactions you will have at home.
Find someone to talk to. While it is helpful to share with your family what's on your mind, be sure not to unload all your pent-up emotions on them. Instead, find a friend or colleague you can talk to and vent or ask for advice.
Set aside a family day and a workday. Pick a day when you will be home and entirely present and pick a day when you might come home later from work than usual if needed.
Be thankful. Research shows gratitude can help reduce stress.
Read more from Advisory Board: 5 keys to leaving your stress at the office